Recently we had some acclaimed visitors tour the Innovation Underground. You may recognize them from their hand-clapping, foot-tapping good performance on NPR Music's Tiny Desk Concert series. Or you may have been one of the many people who endured the Texas heat to see them at Free Press Summer Fest.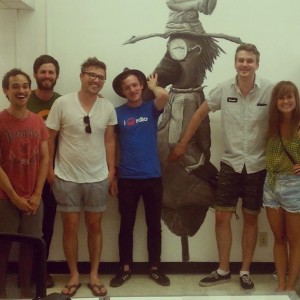 Yes, that IS Kopecky Family Band. No they aren't literally a family, but you wouldn't know it from spending time with them. This down-to-earth group of friends have grown closer than most families over the years. What binds them is not a shared last name, but the shared passion of creating music. Later in the evening at Grand Stafford Theater, Kelsey, the band's female vocalist, would share with the intimate crowd that she and her band mates make music to "bring people together." That's a cause we can relate to here at Innovation Underground.
While, we don't do it with soaring choruses or honest to God heartfelt lyrics, we most definitely seek to "bring people together." Musicians. Programmers. Graphic designers. Artists. Non-profit pioneers. Photographers. We look for any and all who are driven by a passion to create and forge new paths. As a private business incubator, Innovation Underground has the freedom to hand-pick our "clients," although, we prefer to think of them as co-partners in the development of a community of inspired thinkers and creators.
One of the benefits of our diverse range of resident-businesses is the opportunity it creates for collaboration and cooperation. We believe that through the sharing of ideas and talents, a better product emerges than when those products are developed in isolation. While it is true that Innovation Underground provides a service to our incubated businesses, they also provide a service to one another – the service of inspiration. At IU, we are not just a business incubator, but a facilitator of a culture of innovation. We are not here merely to provide a physical space, but also to infuse that space with as much creativity as possible.
This creativity is manifested in the people who have chosen to use our space as a launching point for their business. And it IS a launching point. Our greatest desire is to see a business outgrow their space here. While it's bittersweet to see old friends move on, the beauty of it is that as they do, they create space for new businesses to take their place. It's not long before the void left behind will explode with life and energy from new ideas and new faces. And that energy is what sustains us. That is why we do what we do.