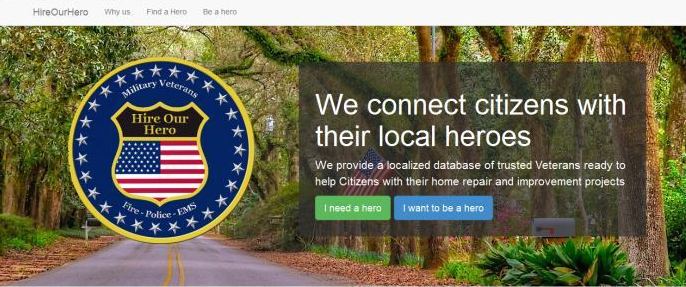 US Disabled Veteran and entrepreneur, Brandon Bunch, has launched Hire Our Hero ­ a platform to help homeowners and citizens at large hire trusted professionals in their community such as realtors, plumbers, and electricians. This marketplace seeks to honor our Heroes' service by increasing business opportunities and additional income
Bunch is a member of the Innovation Underground, a technology small business incubator located in Historic Downtown Bryan Texas. A year ago, Bunch founded Hire our Hero after attending the Entrepreneurship Bootcamp for Veterans with Disabilities, part of the Center for New Ventures and Entrepreneurship offered through the Mays Business School at Texas A&M University. Today, Hire Our Hero is pleased to begin the recruitment of local "Heroes."
Brandon Bunch served in the Marine Corps from 2000 to 2004 and now serves as a firefighter paramedic in Austin.
The Innovation Underground is a privately owned business incubator located in Historic Downtown Bryan, Texas. The Innovation Underground was established in 2011 by AdventGX . Since it's founding, The Innovation Underground has successfully graduated four start­up companies and remains at full capacity with current small businesses while also continuing to support new clients through virtual, off­site incubation.
The Entrepreneurship Bootcamp for Veterans with Disabilities is a one week program offers training in entrepreneurship and small business management to post­9/11 veterans with disabilities resulting from their service to our country. EBV at Texas A&M University is a significant collaboration on our campus between the Center for New Ventures and Entrepreneurship and the Center for Executive Development and Mays Business School.
­ Hire Our hero: ­ hireourhero.com
­ Innovation Underground: ­ iu.adventgx.com
­ Entrepreneurship Bootcamp for Veterans with Disabilities: ebv.tamu.edu